December 2, 2007 at 12:39 am
#54592
Thrym
Keymaster
Markshire PCs: Grottle, Gruzk, Ashimar
@muddy wrote:
clint is the man.
Yes, Clint is the man, but Chuck is god.
Look again …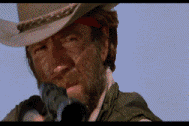 Lone Wolf McQuade
Chuck Norris vs David Carrradine
Love the buried in his NOS equipped pickup from hel scene.
It's also the debut of Robert Beltran (Star Trek Voyager's Chakotay) as his partner.